What's Covered in This Article
Auto-join and Domain-lockdown are tools provided by Zight to assist you in adding users to your workspace. This guide will walk you through the process of installing and configuring each of these features.
Auto-join
What is Auto-Join?
Auto-join is a workspace-admin feature included in team and enterprise accounts that helps new users join your company account with ease.
How does it work?
After configuring auto-join, and as long as it is active, all new users be automatically pulled into your account when they have confirmed their email or logged in through SSO (Okta, Jumpcloud, OneLogin, Google, Slack, Apple).
This is done by matching the new user's email domain to the domain(s) the workspace administrator specified in the auto-join configuration.
The Zight Admin can also set up the platform so:
New users will only have "view-only" profiles which can be changed later.
New users will not be able to use any other workspace other than the Enterprise workspace.
Enabling auto-join
Navigate to your admin/members panel

Look for the auto-join mini panel

Type your domain and hit update

Disabling or Removing the domain, and their differences
⚠️ Features availability: Team and Enterprise subscriptions
You can also disable the auto-join domain while keeping its ownership by hitting "disable". Hit "remove" to remove the domain.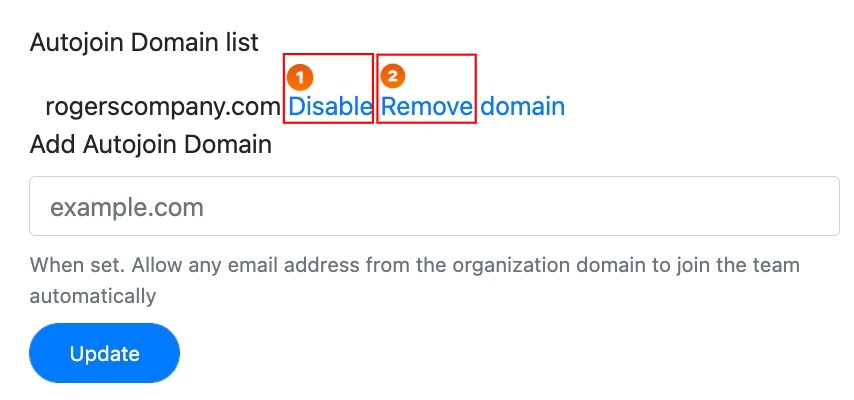 ⚠️ Disable domain keeps the admin's "claim" to the domain. If a domain is disabled, all new users that would join using the same email address domain, are not affected in any way. They create new accounts without acknowledging that the company account exists.
Recommended when an organization/team admin wants to cease organic Zight seats growth and add new Zight users exclusively through its own internal procedures.
⚠️ Remove means, that the organization admin loses access to the domain management. The risk can be that newly joining users that used the same domain can become the domain "owners" after confirming their emails.
Recommended when using if an org admin mistyped domain or is sure that nobody from its organization would use the email domain to join Zight.
What happens when there are no seats left?
If there are no seats left the request license flow will be shown to the new user.
Can I set multiple auto-join domains ?
Yes.
Domain lockdown
What is domain lockdown?
Domain lockdown is a workspace-admin feature included in enterprise accounts that fetches people whose login/email domain matches the domain the workspace administrator specified in the auto-join configuration.
Recommended when an organization prefers to disable auto-join or when they want to fetch users that were already in Zight before auto-join was configured.
How does it work?
The domain lockdown will prompt a form listing users whose login/email address matches the domain(s) you set in the auto-join feature in their email but are not part of your company.
Note: Users who were previously unlicensed will be granted free, view-only licenses. This provides both visibility and security for your entire domain.
Note: If you have multiple domains setup in the auto-join section domain lockdown it will pull users with emails containing all auto-join domains, even if the auto-join domain is disabled.
After the domain lockdown has been enabled it will automatically add the auto-join domain(s) in the License Request Domain List, so users joining will see the "request license" section in their initial onboarding flow: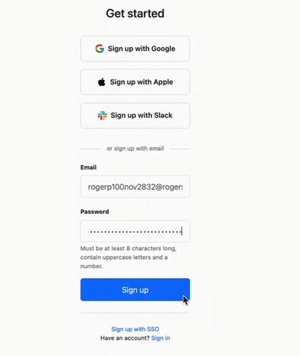 Enabling domain lockdown:
Navigate to your admin/members panel

Look for the domain lockdown button

Click it and follow the form flow.
Can I enable domain lockdown multiple times?
This is not possible for now.
If you have further questions, or have ideas that might make Zight even more powerful, reach out to us at support@zight.com