We want to help you move fast and save time. Templates help you put your Zight screenshots, GIFs, and videos into a predefined design so it is packaged and ready to send. Quickly save that product demo, sales note, or customer support response and reuse it in the future. The pain of recreating the same sharing format is now gone, helping you focus on your workflow & sharing, rather than the setup. You can also choose from templates we have created for you to use with your content, to get started! We'll be adding more templates over time.
How can I use Templates?
Templates are available within your web browser every time you create an item, on the right-hand side of the page you'll see the 'Templates' button. This feature is currently available on all Zight accounts with a paid subscription. We can't wait to hear your feedback at feedback@cl.ly!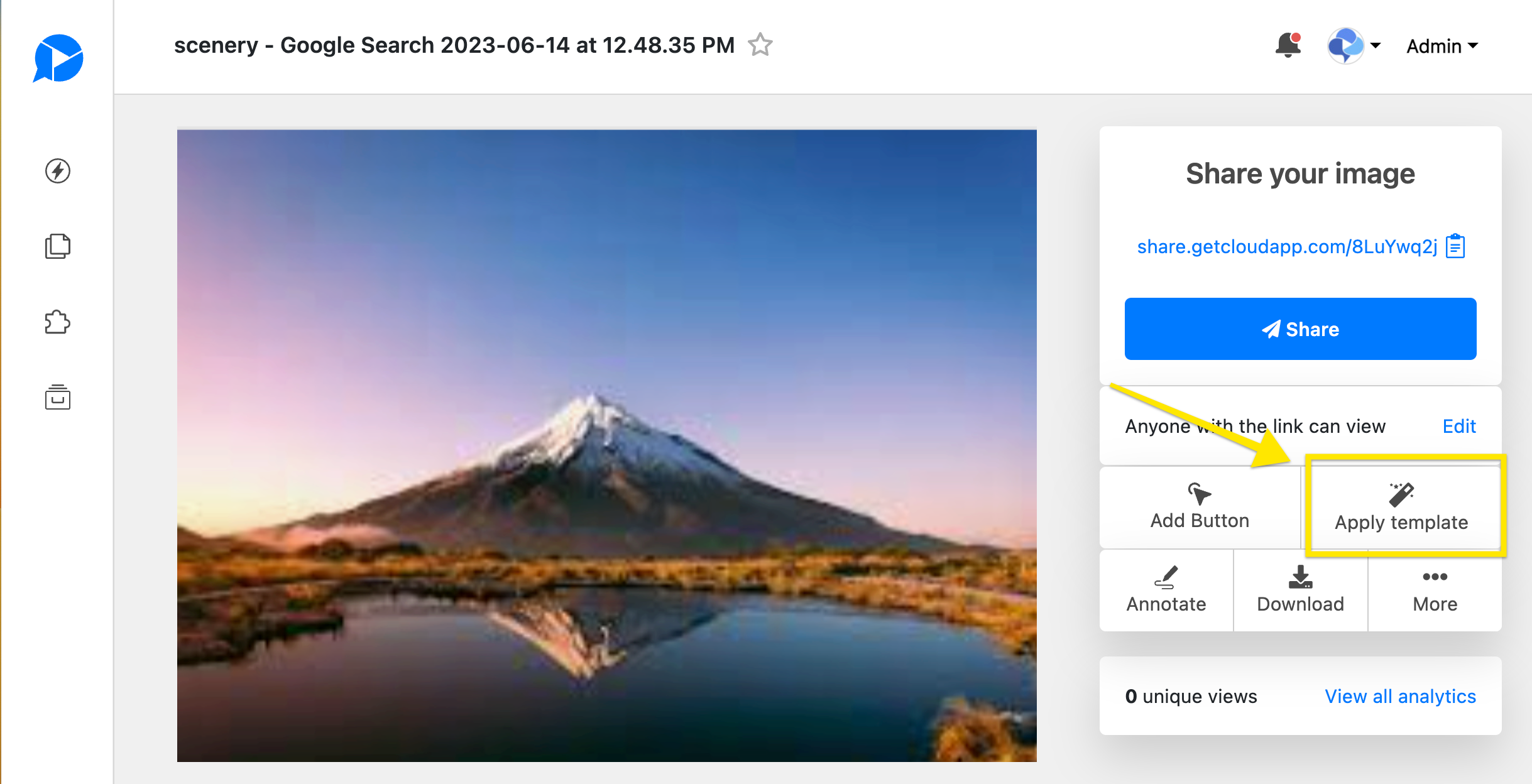 How do Templates work?
To get started, visit any of your links and click on "Apply template"
This will open a menu of pre-defined templates, you can also toggle to your Custom Templates.
You can configure a template (change the pre-defined settings, title, description, CTA, etc) by clicking on the Settings gear icon, which will open the templates editor.
A few options will be shown on the right, and on the left, you will see the preview update in real-time :

Template name: the name of the template for easy finding. Only custom templates can be renamed at the moment.
Template Description: Provide a short description for you and your team to identify the template. Example: Round Robin Calendar + Expire 30 days
Default Title: if you don't have screenshot auto-naming activated, the default names for content created with Zight are usually just something like "Screenshot 2021 05 03". This setting will ensure that content shared with a template can match your message. Ex:

"Product announcement!"

for your product announcements.
Default Description: Similar to the title, you can add an auto-populated description for the items created with your template.
Anyone can comment/allow reactions: disable the commenting feature for this link
Add button, button text, and URL. These refer to the CTA feature which can be added below your video/image. See here for more info: How do I add a Call-to-Action (CTA) button?
Custom security settings:

want to quickly ensure that a template applies a specific security setting? This is for you! This helps you apply security restrictions like link expiration or company-only access with one click.
Select collections:

automatically add your content to pre-defined collection(s) when applying a template. Useful to keep things organized!
Share with my workspace: As an admin, you can create standardized templates that your organization can use. This is great for segmented teams where you may have a customer-facing team that would like open links or a team that would like to have all links expire after 30 days.
Apply automatically: For Custom Templates, the user has the option to apply a specific template for all items moving forward.
What Items are affected when applying a template?
Every item is affected individually. When you change an existing template, only new items will be affected.
How can I remove a template?
Currently, each setting is being applied when clicking on "Apply template", which you can then modify individually. We do not yet have the option to remove a template, but you can reutilize any of the unused ones.
Settings for Admins:
As an admin, you can create templates and then share them with your team/s. You can also use them alongside the Collections tool to create different settings for the various use cases that your org has. Here's the complete process of setting up a Collection and creating a Template for your team's items to be added to that collection:
On your dashboard panel, go to Collections - Create Collection

Name the collection and click enter. You will be directed to the new collection

Click on the "Lock" icon in your upper menu

Select the settings you will need according to the preselected group

Select the video/gif/recording you want to use to create the template

Click on the "Apply Template" icon to display the options

Choose the tab "Custom Templates" to create your own

Press "Create" to open the Template setting menu

In the "Select Collections" button which is the last one you'll see at the bottom of the menu, pick the collection you just created

Turn on the switch below the "Select Collections" button, that says "Share this template with my workspace

Hit the "Save & apply template" button
The next time they open the template menu, they will see the template that you just created, with all the configurations that you've chosen for that group of people.
If you need further assistance or have additional questions, we'd be happy to help! Please contact our support team here.