Having issues with Zight? We can help! These troubleshooting steps, such as quitting/reopening, updating, uninstalling, clearing cache, performing a factory reset, and reinstalling the app may clear out bad data and resolve these issues.
How to shut down the app
To quit the app, click on the circle icon, the gear icon, then 'Quit Zight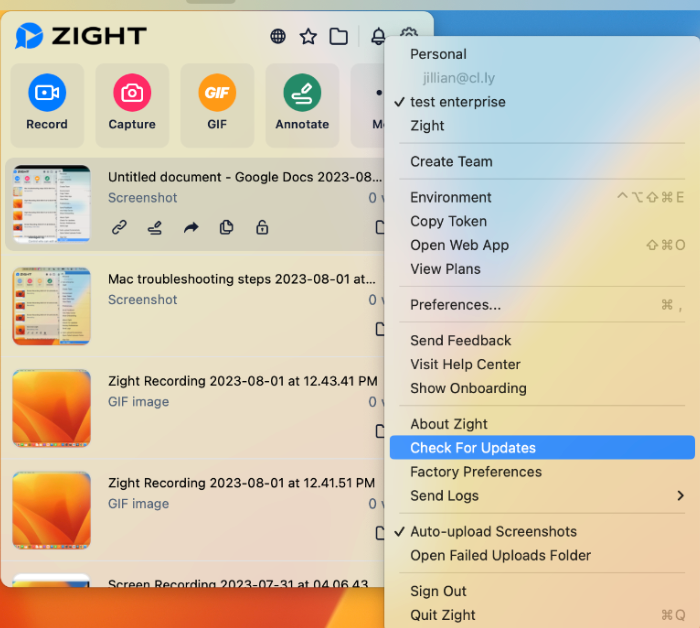 How to update the app
To update the app, click on the Cloud icon, the gear icon, and 'Check for updates'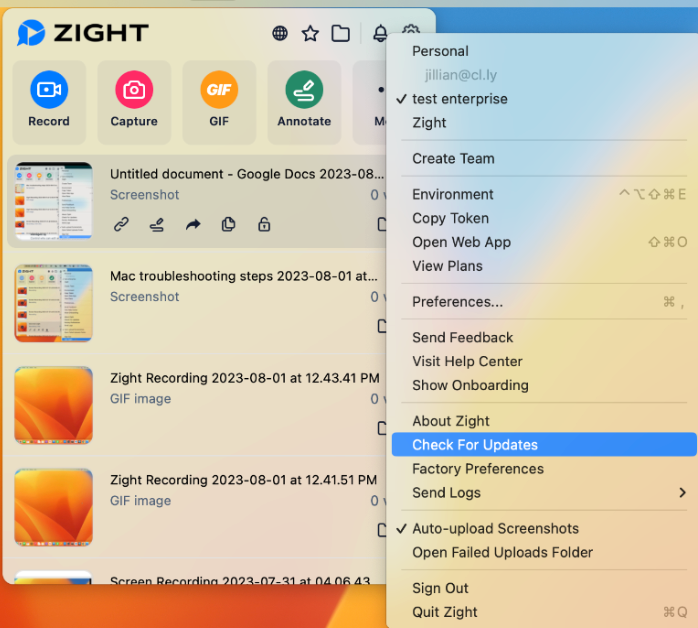 How to Uninstall and Reinstall the app 
To reinstall the app, quit Zight, click 'Finder' and 'Applications', then type in 'Zight' under the search bar. Then, fully delete the app by clicking on the 'Trash' icon and pressing 'Empty'. Next, clear your cache on your browser, and reinstall the app through either Download Zight or the Mac app store: https://apps.apple.com/us/app/cloudapp/id417602904?mt=12.
How to clear your cache on Chrome
To clear your cache, click on the three vertical dots on the upper right-hand side of the Chrome browser, click settings, and scroll down to click 'Clear browsing data', and click 'Clear data.'
How to do a factory reset
A factory reset should clear out any data that might be causing problems. You can do this by opening Terminal through the shortcut, Cmd, Space, which will pull up 'Spotlight Search'.  Next, type in "Terminal", and hit the return key. Paste in these following commands: 
tccutil reset All com.linebreak.CloudAppMacOSX
tccutil reset All com.linebreak.CloudAppMacOSX.capture
defaults delete com.linebreak.CloudAppMacOSX

Then, press return.
If you need further assistance or have additional questions, we'd be happy to help! Please contact our support team at support@zight.com.