Combining Lucidchart, Lucidspark, or Lucidscale with the power of Zight further enables teams to bring clarity and speed to their visual work. Embed or play video recordings in your Lucidchart documents, Lucidspark boards, or Lucidscale models with confidence knowing your message, tone of voice, direction or explanation is captured — all without a long winded email or unnecessary meetings to accompany your Lucid content. Read on to learn more about how to record a video in Lucid.
Start recording
You can record a video from a Lucidchart document, Lucidspark board, orLucidscale model. To do so, follow these steps from the workspace of your choice:
Select

the video icon in the upper-right corner of the canvas.

If this is the first time you have recorded a video, read and agree to Terms and Conditions before clicking

Get Started

. Then, follow the prompts to allow access to your device's microphone and camera. You will only need to do this once.

Select Zight (It might still appear as CloudApp)

.

In the window that appears, set the "Video settings" and "Recording settings" using the respective drop-down menus.



Click

More options

to access options like Video quality.

Select

Record screen

.

Choose what to record. You can select the entire screen, a specific window, or a Chrome tab.

Click

Share

to start recording. A countdown will appear which indicates when the recording will start.
Once you begin recording, your image will appear in the lower-left corner of your screen alongside a control panel. You can reposition where your image appears in the recording by clicking and dragging it to a new area of the screen.
Manage recording
You can use the control panel found in the bottom-left corner of the workspace to manage your recording.
Hover over the blinking red video icon to see the full control panel.

From the control panel, you can

End the recording

Pause the recording

Restart the recording

Delete the recording
After you finish recording, a window will appear where you can:
review the recording.
adjust the volume of the video preview.
enter full screen for video preview.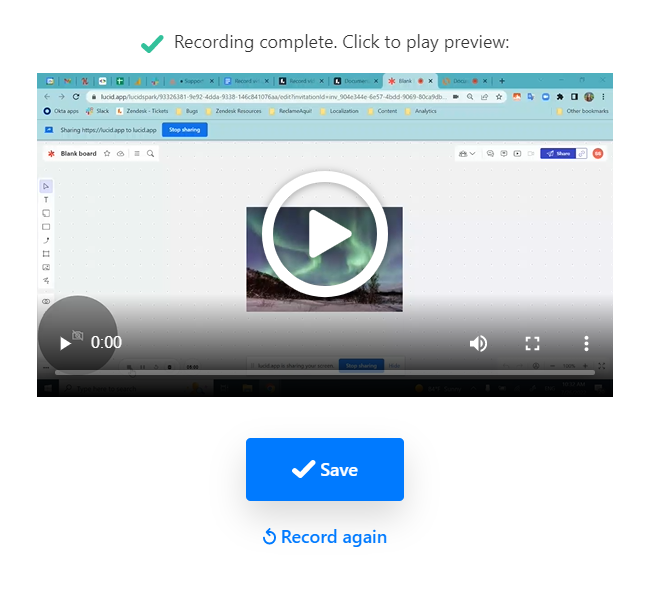 Select Save to insert your video into your Lucid diagram. It will appear as a shape on your canvas.
Manage video in Lucid
Once you have inserted the video, you can:
Play the video by clicking the play icon.

Reposition the video by clicking and dragging.

Resize the video shape by clicking and dragging from a side or edge of the shape.
FAQ
The video icon is grayed out and I cannot select it. Why?
Please ensure you are using an up-to-date and compatible browser. Recording video in Lucidchart, Lucidspark, or Lucidscale with Zight is compatible with Google Chrome, Microsoft Edge, and Brave.
I am unable to select Zight on Firefox. Why?
Zight is not supported on Firefox. You will need to use a different browser that is compatible with Zight.
Do I need to enable third-party cookies to record a video in Lucidchart, Lucidspark, or Lucidscale?
Yes. Zight requires that third-party cookies be enabled. You can read more about Zight's privacy policy here.
If you need further assistance or have additional questions, we'd be happy to help! Please contact our support team at support@zight.com.